#ShareYourStory: Brenda
Date: 15 July 2020 Category: News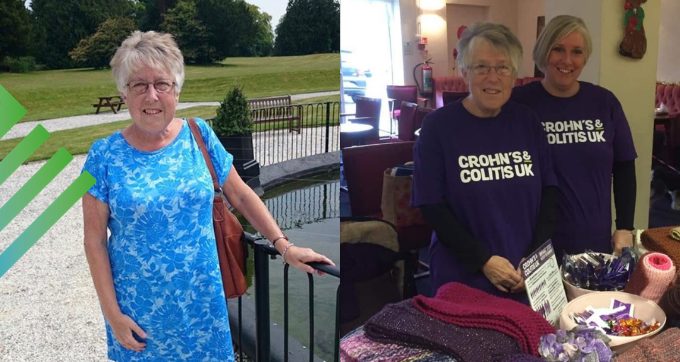 Brenda is 72 years old and now has an Ileostomy and suffered with Crohn's for a while before her stoma surgery. After experiencing blood when going to the toilet, her GP acted quickly and she was diagnosed with Crohn's disease in 2011.

Suffering with Crohn's disease
For the first year following her diagnosis – Brenda managed pretty well with her Crohn's. In September 2013, she was put on Azathioprine. After just 10 days on this medication, Brenda was hospitalised with pancreatitis. This was the start of a dreadful few years.
At the start of 2014, Brenda's symptoms worsened and the Humira she was put on didn't get a chance to work because of being hospitalised so many times with infections. In April, it was discovered that Brenda had a colon stricture – this resulted in a temporary stoma.

Recovery phase
Recovery was tough for Brenda. She experienced constant weeping of her scar and it wasn't until February 2015 that it was discovered that Brenda had an abscess - part of the scar was reopened, leaving a large open wound and a heavy vacuum pump fitted which had to be carried around until June. Just as her health began to improve – Brenda's final medical option, Methotrexate, failed her and in November 2015 her stoma was made permanent.
Thankfully, Brenda had a speedy recovery and become her old self again in a short amount of time. Brenda admits that she is probably able to do more than she ever did before. It makes Brenda smile to see what she can now achieve and that's great to hear!

Turning to social media and support groups
Social media can be a great supporting method. Brenda had been unfortunate with gastro consultants in the early stages of her IBD journey – but then after a google search, she came across the #getyourbellyout. Brenda says that she has had amazing help, knowledge and support ever since joining, as well as making new friends and visiting them all across the UK. Brenda is still a very active member of the group – only now she is able to offer that support to others.

Modelling?
A few years ago, Brenda was invited onto the Anne Diamond radio show to discuss #getyourbellyout and the clothes group – as well as this, Brenda was asked to model swimwear for a stoma wear company. Despite being overweight for most of her life – it was an amazing experience and she is so glad that she said yes.
Brenda's words of advice
"I think my main advice to anyone facing surgery would be to ask, ask, ask others who have been through it. Get as many angles on recovery and advice on everything. Views will differ but there will usually be certain advice that will be repeated which makes it probably good advice, the main advice being get help when you need it. There are many forums and groups on social media. I've found my support in #getyourbellyout and I truly believe it's the best place to get support and advice."

Thanks to Brenda for sharing your truly inspiring story!

If you would like to share your story with Medilink, then please visit our dedicated website page here: https://www.saltsmedilink.co.uk/share-your-story