#ShareYourStory: Lawrence
Date: 15 September 2020 Category: News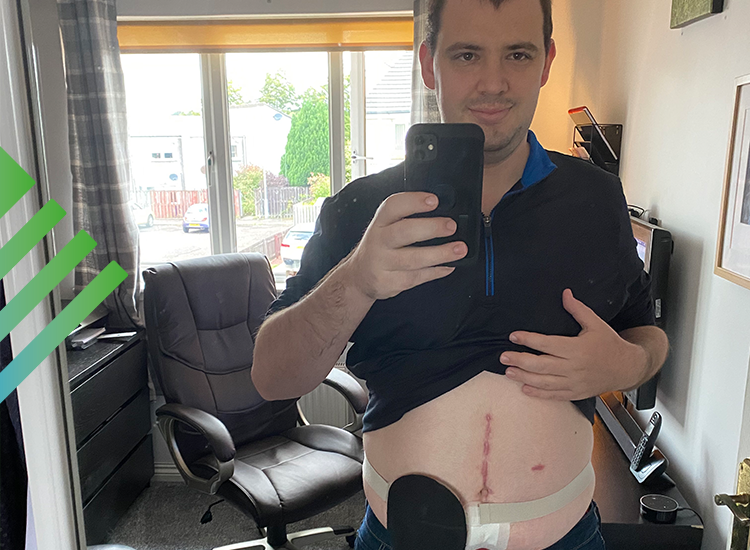 Lawrence is 28 and has an ileostomy as a result of his Ulcerative Colitis going beyond medical management and requiring surgery.
There's been ups and downs
After being told that he might need surgery – Lawrence was in an information overload, but made the decision to have the stoma operation.
Lawrence woke up in a fair amount of pain, which is to be expected after surgery, but thankfully for Lawrence, the Nurses in the High Dependency Unit were there for him and delivered top care. After days of fighting through pneumonia and getting back onto his feet – he was ready go home.
Although Lawrence was in good spirits, he had some surgical wound problems as well as 4 infections. Unfortunately, a whole month after surgery, Lawrence hit the lowest point in his recovery and was admitted back into hospital with a severe infection and spent another week on IV's.
Thankfully, after he was discharged for a second time, Lawrence really bounced back. While COVID-19 did present a few issues, he felt much better and even started taking small walks, which he had been so looking forward to.
Lawrence is now 3 months on and doing great! He has returned to work and it's great to hear that his family and friends have shown so much support as well as by fantastic healthcare workers.
Re-gained quality of life
With the shock of surgery aside, Lawrence has really regained his quality of life again. He can sleep through the whole night and relax when he's out of the house without worrying about where the nearest toilet is.
The Medilink® service
Lawrence has been using the Medilink® service since leaving the hospital. The process to register with Medilink was so simple and one of our Customer Care Advisors guided him so well. He says that each order he places is so easy and arrives very quickly. It's nice to hear that our complimenting items are a nice touch for Lawrence. Overall, he couldn't be any happier with the service.
Lawrence's Mantra
"Don't lose sight of the wonderful opportunity your stoma gives you to begin living life to the full again."
We love these words of advice from Lawrence, very motivating!
We would like to say a big Thank You to Lawrence for sharing his story with us!
If you would like to share your story with Medilink, then please visit our dedicated website page here: https://www.saltsmedilink.co.uk/share-your-story